Van der Valk and Hot Lab team up to create sizzling interior design for new Pilot range
THE EPITOME OF VERSATILITY

Premier Dutch yachtbuilder Van der Valk has announced an exciting cooperation with Italian yacht design company Hot Lab. The Milan-based studio has created two sumptuous styles for the new Van der Valk Pilot series in turquoise and yellow that will ensure a superlative level of interior comfort for these contemporary explorer superyachts.
Since the new Pilot range was unveiled  several weeks ago, there has been considerable interest as to which prestigious designer would be chosen to create the inaugural interior. Now the Dutch yard has revealed that the dynamic team from Hot Lab have drawn two striking interior styles that exude space, light and natural colours.
Rich and contemporary
'It is always an honour to design interiors for a new model from a successful yard like Van der Valk as you know the audience is anticipating something special," comments Antonio Romano, partner and marketing director at Hot Lab. "This has inspired us to create a gorgeous style for the Pilot that is meticulously designed and detailed throughout and where relaxation is a way of life. The interior decor are wonderfully rich and at the same time contemporary, reflecting the rugged sophistication of this superb motoryacht.'
'We are delighted with this stimulating new marriage between premium Dutch yachtbuilding and Italian design flair,' confirms Van der Valk's sales manager Yoeri Bijker. 'When you add a new range to your portfolio it is vital to offer an interior design that matches the ambition. Hot Lab have devised a timeless look that is unfettered by the constraints of the moment, perfectly capturing the spirit we have in mind with the Pilot.'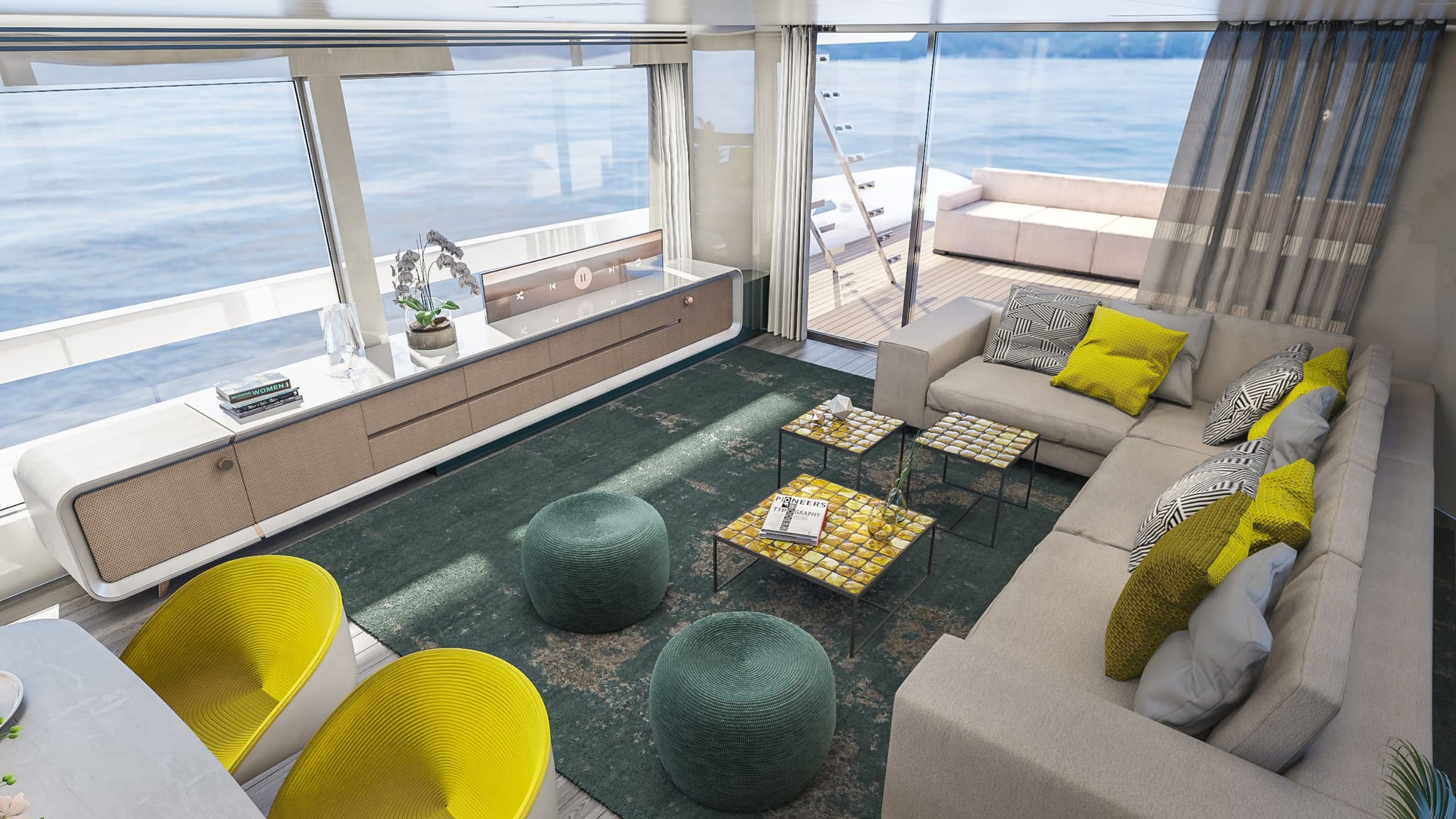 Turquoise and yellow
The renowned craftsmen at Van der Valk are relishing the opportunity to translate the rounded edges, precious leather details and elegant joinery shown on the renderings into reality. The main materials used will be brushed oak, white birch and white glossy lacquered woods, white leather, ceramic white and chrome, added Enrico Lumini, partner and design director at Hot Lab.
Clients can choose between two distinctive colour pallets, both of which bring out the best of the Pilot's design and each coming with its own proposed selection of loose furniture from the likes of Flu, De Padova, Paola Lenti and Calligaris. Lighting highlights include some delightful pieces by Foscarni, Busier + Punch, Cantalupi and Kartell.
Future perspectives
The design team at Hot Lab are on a roll currently, having just won a Neptune at the World Superyacht Awards to add to their impressive trophy cabinet. Van der Valk has also continued to win awards for its top-quality Dutch builds. The BeachClub 600 took home the World Yachts Trophy for 'Most Innovative Yacht' at the Cannes show and the LeVen 90 motoryacht was recently named 'Best New Series' at the 2020 BOAT International Design & Innovation Awards.
This formidable new partnership between Van der Valk and Hot Lab will ensure the new Pilot series reaches new heights of excellence. Designed by Cor D Rover and available in lengths of 23 metres and above, these all-aluminium motoryachts will blend the best of both worlds by providing lots of outdoor space as well as plenty of interior volume.
About Van der Valk Shipyard
Van der Valk Shipyard has been constructing both steel and aluminium motor yachts since 1967. The family-owned shipyard employs more than 45 craftsmen and is located in Waalwijk, the Netherlands. Its founder Wim van der Valk is still a driving force behind the company. The yard has primarily earned its worldwide reputation from the award-winning semi-custom Continental series. Van der Valk also has the capacity to build fully custom designs.