Turkish delight for award-winner Blue Jeans
"A very pleasant all-rounder that certainly met the owner's challenge," was how the judges of this year's World Superyacht Awards described Blue Jeans. Despite being up against four other superb nominations in the 'Semi-displacement or planing motoryacht 30 to 34.99m' category, Van der Valk's fully custom entry won by a significant margin in a secret ballot of the independent panel of 23 current and former superyacht owners. You can see from the photos what it meant to the team behind this 34-metre beauty as they stood on the stage to accept the coveted Neptune trophy in Istanbul on Saturday 20 May.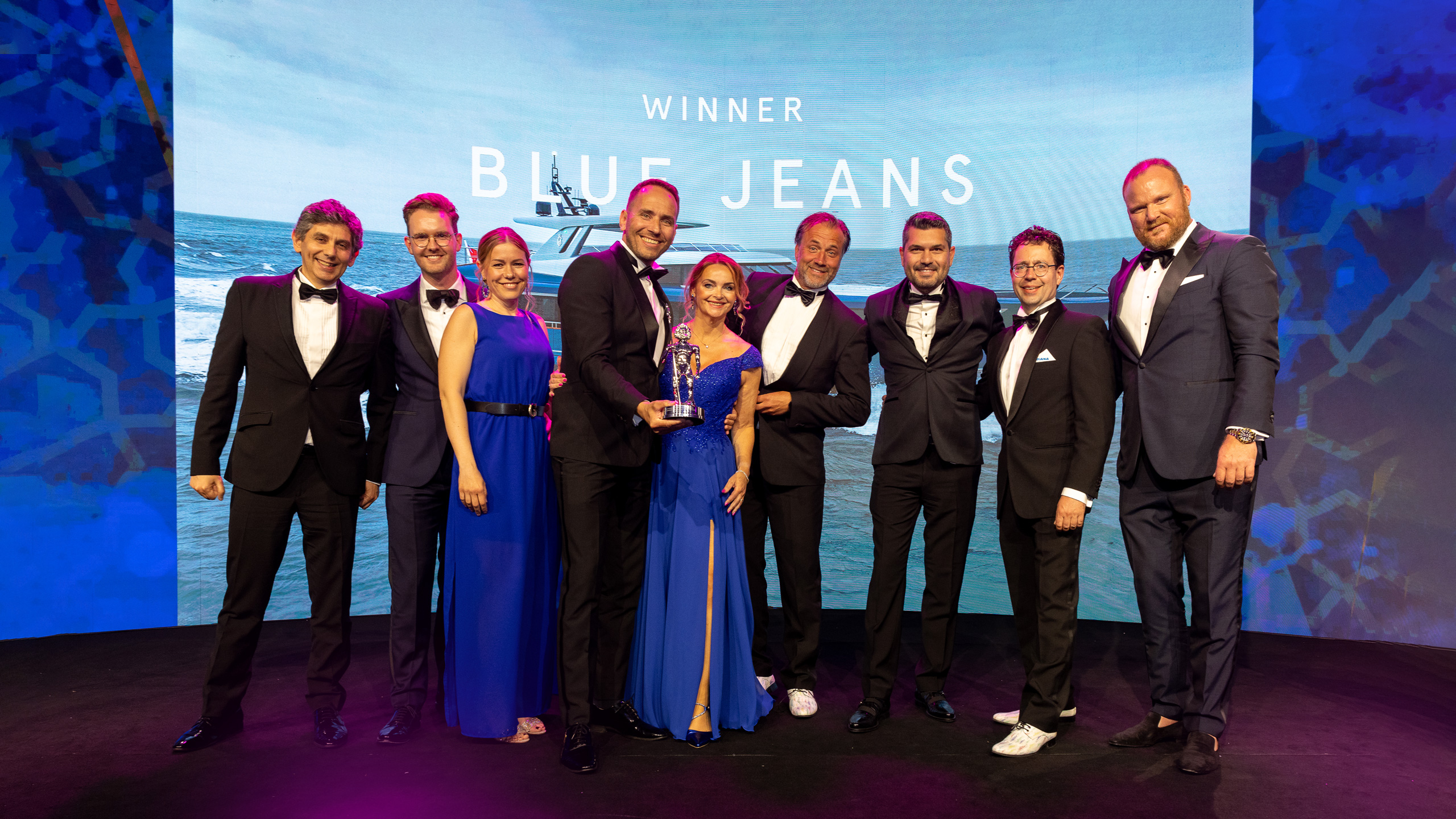 Striking appearance
Winning this award is a testimony to the yard, Guido de Groot's design team, the naval architects Diana Yacht Designand above all the vision of the owners of Blue Jeans. They came to Van der Valk seeking a fast vessel with a high level of seaworthiness, stability and manoeuvrability, challenging us to surprise them with what we could do. The results certainly impressed the judges, as their report makes clear. "They admired her striking appearance, her comfortable cruising speed of 25 knots, her spacious maintenance-friendly engine room, high-quality build and optimum layout."
Experience talks
The expert panel, who collectively bring hundreds of years of experience to the judging process, also stated the following: "To meet the owner's performance needs, naval architects Diana Yacht Design drew a semi-displacement hull with large propellers positioned in tunnels to increase efficiency and decrease draught. Her interior by Guido de Groot Design, who also drew the exterior lines of Blue Jeans, was laid out in the classic manner with the master cabin well aft on the lower deck where movement is at a minimum, and a formal dining room forward on the main deck."
"This year's World Superyacht Award winners once again represent the pinnacle of this remarkable industry," says Stewart Campbell, Editor-in-Chief at BOAT International, organisers of the awards. "The skill, attention to detail and innovation shown by the designers and shipyards, combined with the imagination of the owners, has created some truly exceptional vessels. As the only awards programme in our industry judged by owners, the winners of this year's Neptune trophies should feel justly proud of their achievements."
We couldn't agree more! Read about and see additional images of Blue Jeans here .