Hot Lab designers creating sizzling interior for new Pilot range
We are delighted to announce an exciting new cooperation with Italian yacht design company Hot Lab, who recently won a Neptune at the World Superyacht Awards. From its home base in Milan, the studio is bringing an extra degree of cool to the new Van der Valk Pilot series with an interior glowing with space, light and natural colours.
'Our goal is to ensure a fantastic sense of comfort for the modern explorer Pilot," says Antonio Romano, partner and marketing director at Hot Lab. "We're creating a super-inspiring interior that is precisely designed and detailed throughout and where relaxation is a way of life. The interior decor and styling are wonderfully rich and at the same time contemporary, reflecting the rugged sophistication of this superb motoryacht.'
Turquoise or yellow?
'The craftsmen at Van der Valk can't wait to translate the rounded edges, precious leather details and elegant joinery that you can see on these renderings into reality. The main materials used will be brushed oak, white birch, white glossy lacquered woods, white leather, ceramic white and chrome-, adds Enrico Lumini, partner and design director at Hot Lab.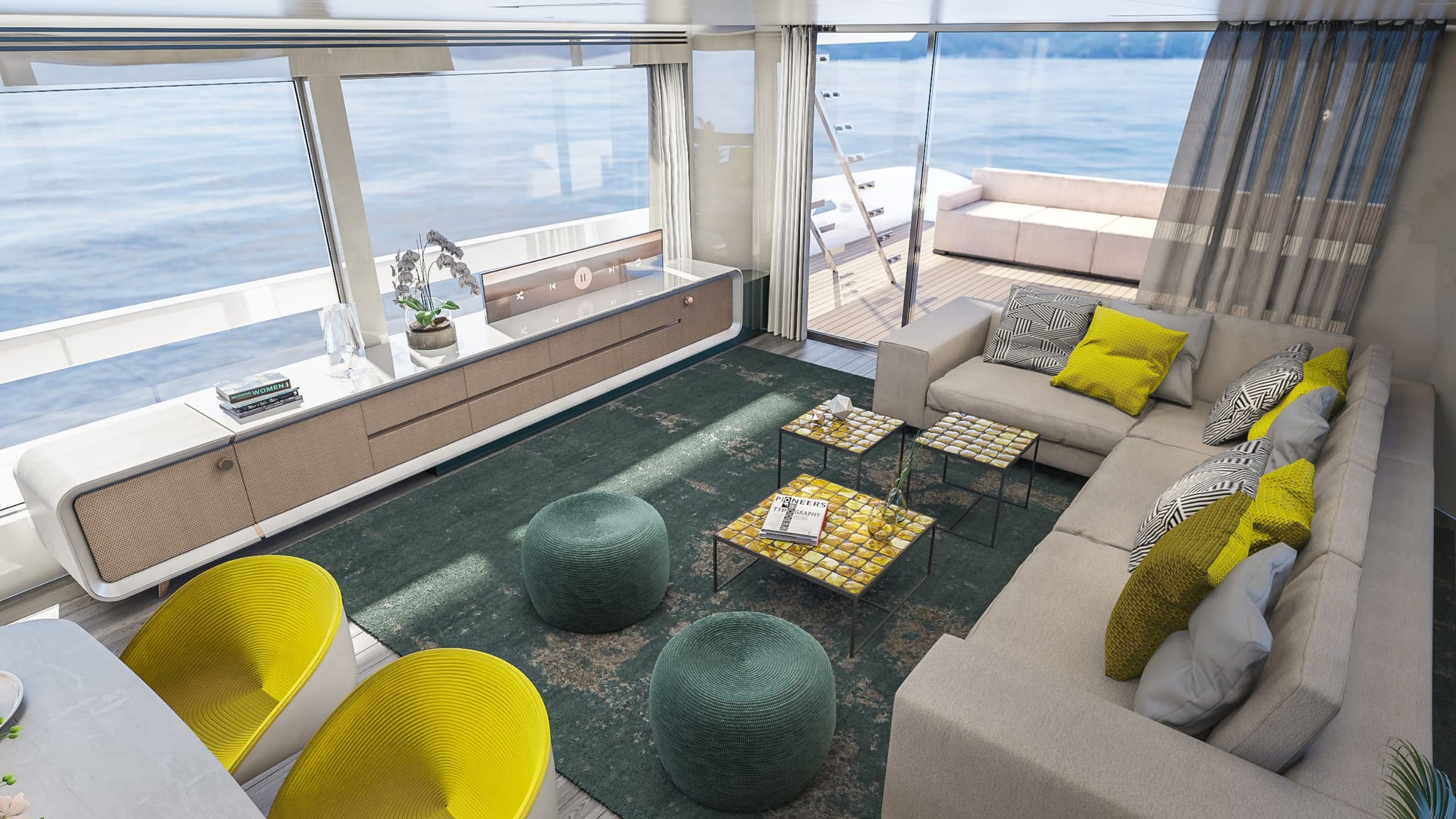 Clients can choose between turquoise and yellow colour schemes. Both bring out the best of the Pilot's design and each comes with a selection of loose furniture from the likes of Flu, De Padova, Paola Lenti and Calligaris. Lighting highlights include delightful pieces by Foscarni, Busier + Punch, Cantalupi and Kartell.
'This marriage between premium Dutch yachtbuilding and Italian design flair is going to lead to something very special indeed,' says Van der Valk's head of sales and marketing Yoeri Bijker  'When adding a new range to our portfolio like the Pilot it was crucial that the interior design had the quality to match. Hot Lab have devised a timeless look that is unfettered by the constraints of the moment, perfectly capturing the spirit we have in mind with the Pilot.'